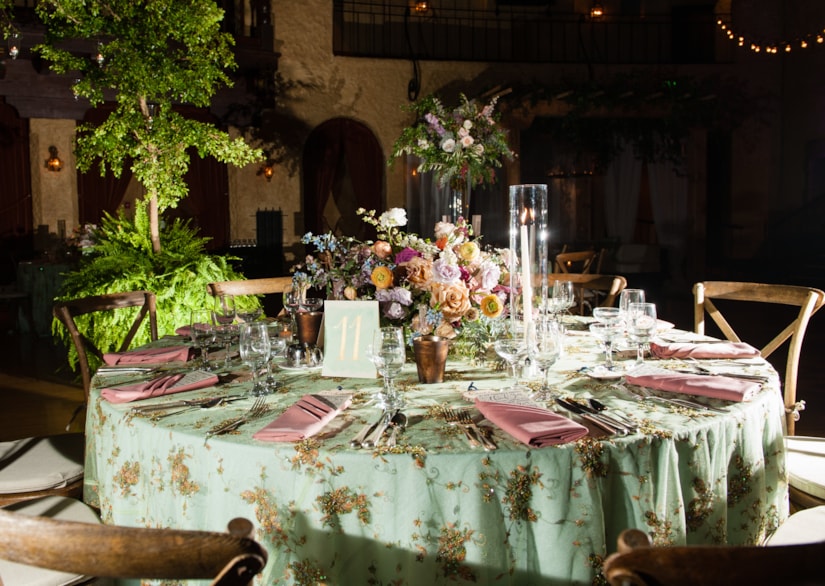 Centerpiece Ideas For Your Next Indianapolis Event
At Crystal Signature Events, we believe centerpieces to be an essential part of the decor that will set the vibe for events at all of our venues - whether it be a wedding at the historic Indiana Roof Ballroom, a milestone birthday party or nonprofit fundraiser at The Heirloom at N. K. Hurst, or a premier corporate event at The Crane Bay Event Center. Thoughtfully designed centerpieces add a finishing touch to the overall ambiance of the space and serve as a focal point for guests. Centerpieces don't have to break the budget to be impactful. With a few tips from our expert team of event professionals, we'll help you find the ideal centerpiece for your event.
Consider the Theme of the Event
Your centerpieces should match the overall theme and style of the event. For example, if you are having a rustic-themed wedding, you may opt for a centerpiece that features natural elements like wood, burlap, or wildflowers. If you are having a modern and minimalist corporate event, you may opt for a sleek and simple centerpiece design with floating candles.
Determine the Functionality of the Space and the Venue Size
The functionality of the space is another important factor to consider when selecting a centerpiece. If your event is a seated dinner, you'll want to make sure your centerpieces are not too tall or obstructive to allow guests to have clear sight lines across the table. On the other hand, if your event is a cocktail party or standing reception, taller centerpieces can be more impactful and provide a visual focal point for guests.
The size of your venue will also play a crucial role in determining the perfect centerpiece for your event. A large venue with tall ceilings like The Indiana Roof Ballroom may lend itself to larger and more impactful centerpieces to fill the space, while a more intimate venue with lower ceilings like The Heirloom may call for smaller and lower profile centerpieces to create a cozy ambiance. When choosing a Crystal Signature Event's venue, your representative will be able to assist with what works well, what should be considered, and what options they may have in-house.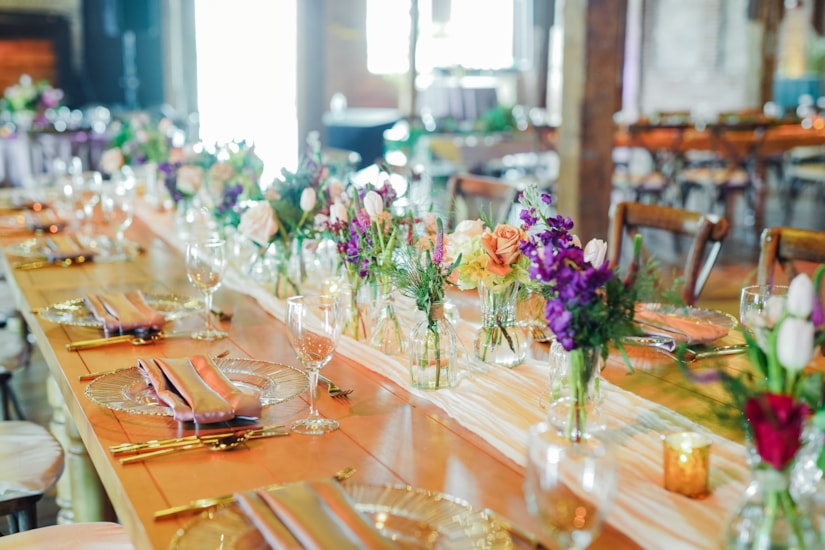 Personalize Your Centerpieces
Don't be afraid to personalize your centerpieces to add a unique touch to your event. Adding personal elements like photos, monograms, or logos can make your centerpieces stand out and create a conversation piece for your guests.
Consider the Budget
It's important to determine how much you can allocate towards centerpieces, while still maintaining the overall budget for the event. There are many budget-friendly options for centerpieces, from going the DIY route to using candles or even mixing and matching options of different price points. For nonprofit events, consider centerpiece-sponsored-donations or items you can reuse at future events.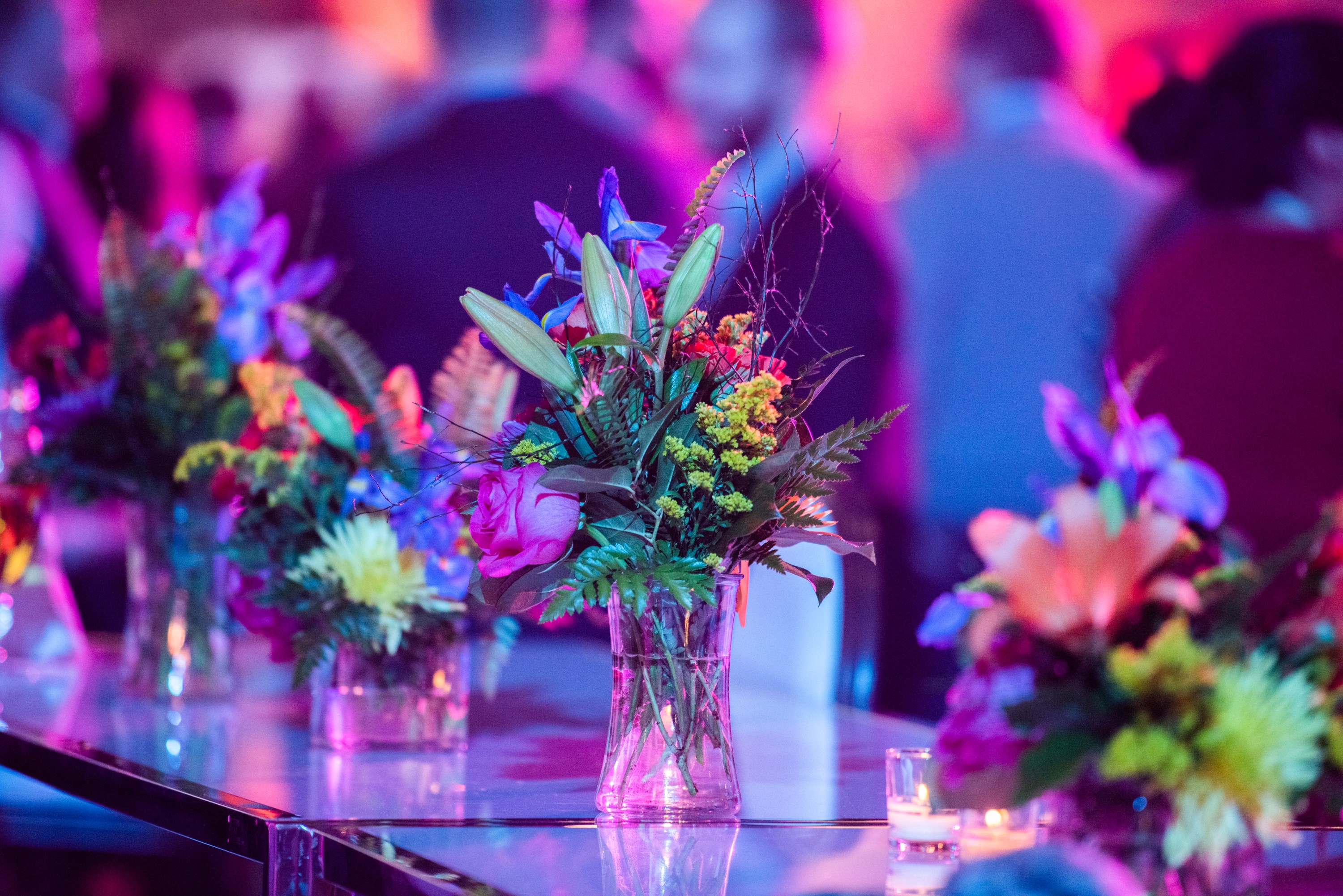 Now that you've given careful consideration to the theme, functionality of the space, venue size, budget, and personalization, you'll be able to find the ideal centerpiece that adds the perfect finishing touch to your event decor!
When it comes to centerpieces, the options are endless. From floral arrangements and feathers to candles and art, and everything in between, there are many ways to create a stunning centerpiece for your next event. Here are some of Crystal's favorite centerpiece options to consider!
Floral
Flowers are a classic and timeless centerpiece option. You can choose from a variety of blooms (keeping in mind seasonality) and colors to create a stunning arrangement. Whether you opt for a simple and elegant single-flower vase or an elaborate floral centerpiece, flowers are a great way to add a touch of beauty and elegance to any event.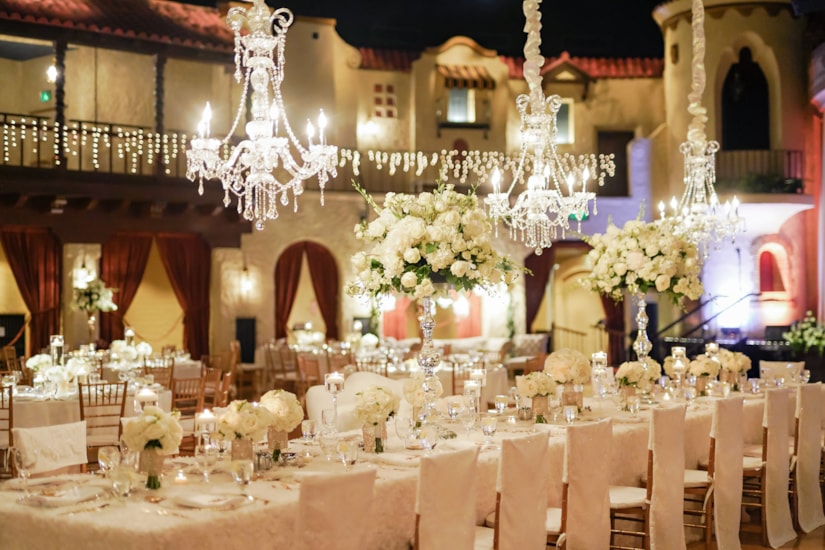 Lanterns
Lanterns are a great option for outdoor events or rustic-themed events, like at The Heirloom. They come in many sizes and shapes and can be filled with candles or fairy lights to create a beautiful illuminating centerpiece. They can also be hung from the ceiling or trees to create a magical ambiance.
Candles
Candles are a popular, versatile, and typically less costly centerpiece option. They come in many sizes, shapes, and colors, making them a great option for any event theme. You can use them as standalone centerpieces or pair them with other decor elements like flowers, greenery, or vases. Realistic looking LED candles are very popular, safer and ensure less worry of the flame going out. If wanting to use real flame, be sure to check with the venue's policies first.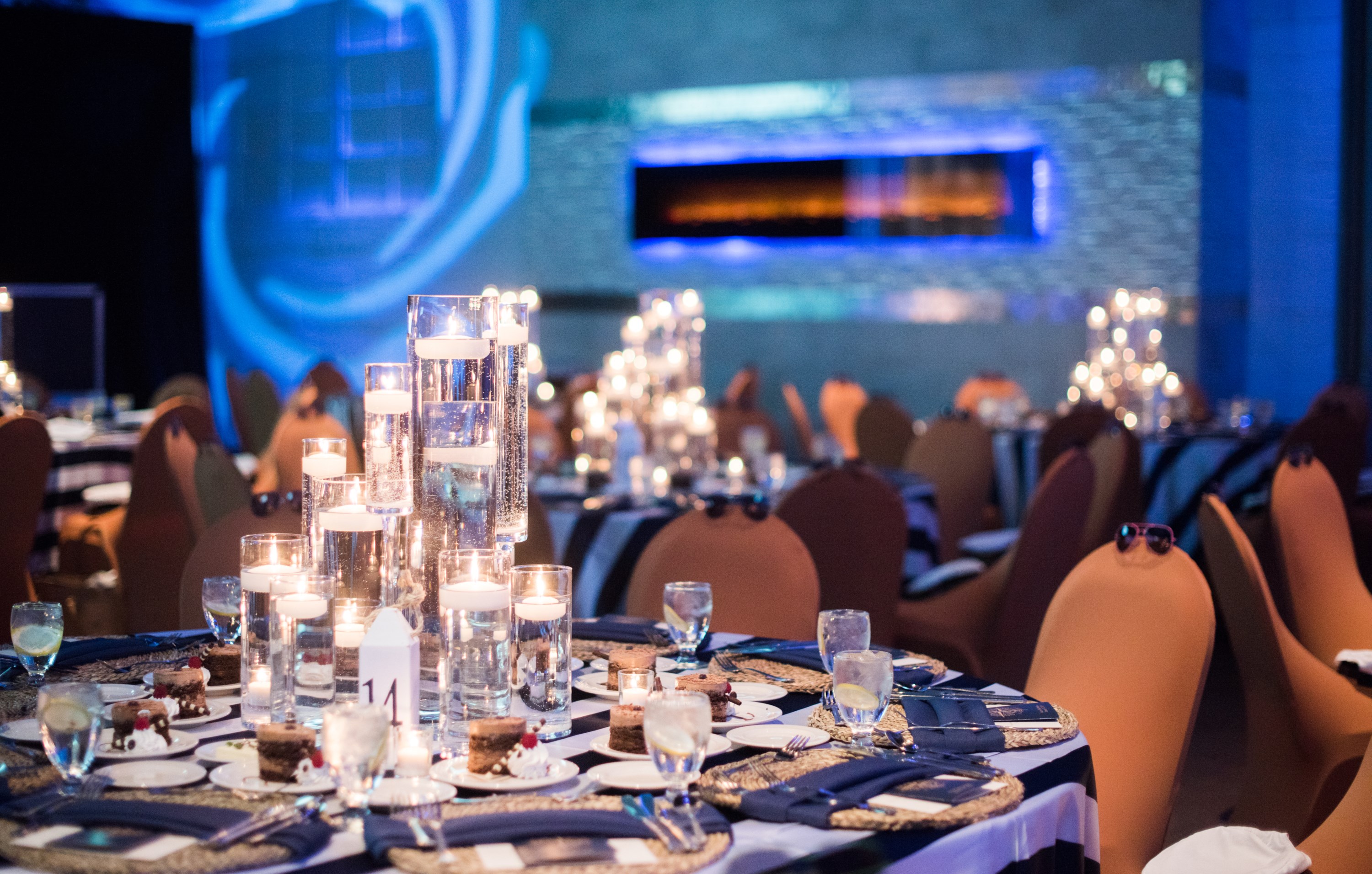 Food Displays
Food displays are a unique and unexpected centerpiece option that can add a pop of color and freshness to your event. You can choose from a variety of fruits, meats, cheeses + crackers to create beautiful arrangements that can double as a healthy snack for guests. A benefit is working on this with your caterer instead of having to add in another vendor. Crystal loves assisting with creative ways to display food.
Terrariums
Terrariums are a modern and trendy centerpiece option that can add a touch of greenery to your event. You can choose from a variety of shapes and sizes and fill them with plants or succulents to create a mini garden on your table. This is a great option to DIY!
Balloons
Balloons are a fun and playful centerpiece option that can add a pop of color and excitement to your event. You can create balloon centerpieces in a variety of shapes and sizes and pair them with other decor elements like flowers or candles.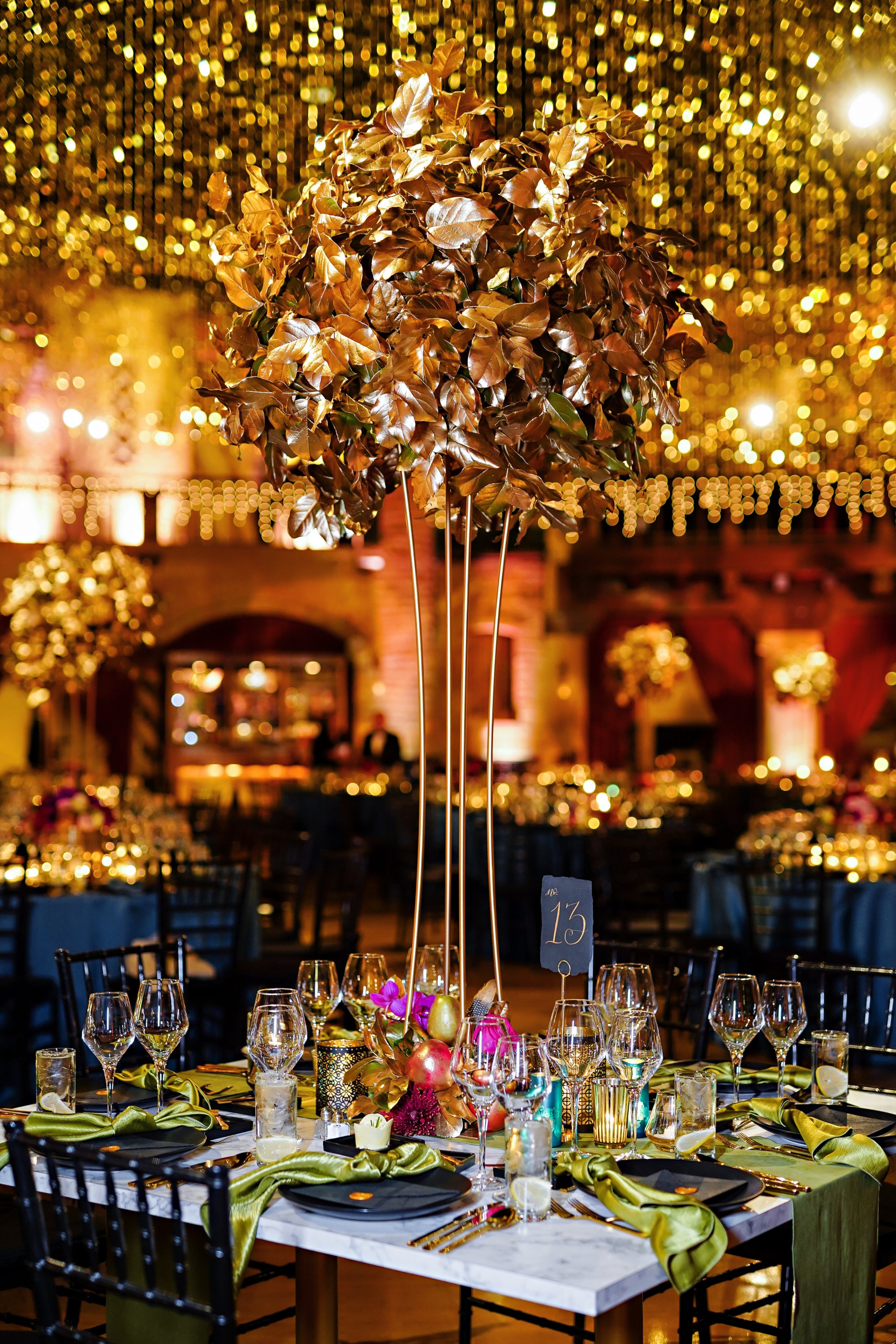 As you can see, from classic floral arrangements to modern and trendy terrariums, there are many centerpiece options to consider for your next event that add the perfect finishing touch to your decor, while meeting your budget and theme. You can even combine 2-3 different types of these centerpieces, which will add dimension and contrast to your room design!
On a final note, don't forget to consider what happens to the centerpieces at the end of the night. Do the vases or other decor need to be returned to the company or is everything yours to keep? Will you encourage guests to take a centerpiece home or would you prefer to connect with a local donation service, like Random Acts of Flowers, that will pick up your florals and deliver them to people in hospitals and nursing homes to enjoy? For corporate and nonprofit events you could consider investing in centerpieces that can be used year after year or plan ahead to raffle them off or give them to VIP guests as a take-home favor.
As with all Crystal Signature Events, we are here to help. Contact us today to learn more about our family of venues and event packages. We ensure flawless execution from start to finish and would love to help plan your next event together.
Centerpieces For Magical Events
Related Topics: Charity and Fundraising Events, Crane Bay Event Center, Event Planning, Fundraisers, Heirloom at N. K. Hurst, Indiana Roof Ballroom, Parties and Special Events, Venues, Wedding Receptions