A Night to Remember: The Coghlan Leonard Wedding at The Indiana Roof Ballroom
On an enchanting summer evening, love took center stage at The Indiana Roof Ballroom in Indianapolis as Megan Coghlan and Peter Leonard hosted their wedding reception that was nothing short of magical. This unforgettable event was a celebration of love, Greek traditions, and exquisite taste, leaving every guest with cherished memories to last a lifetime. Let's relive the highlights of this extraordinary day.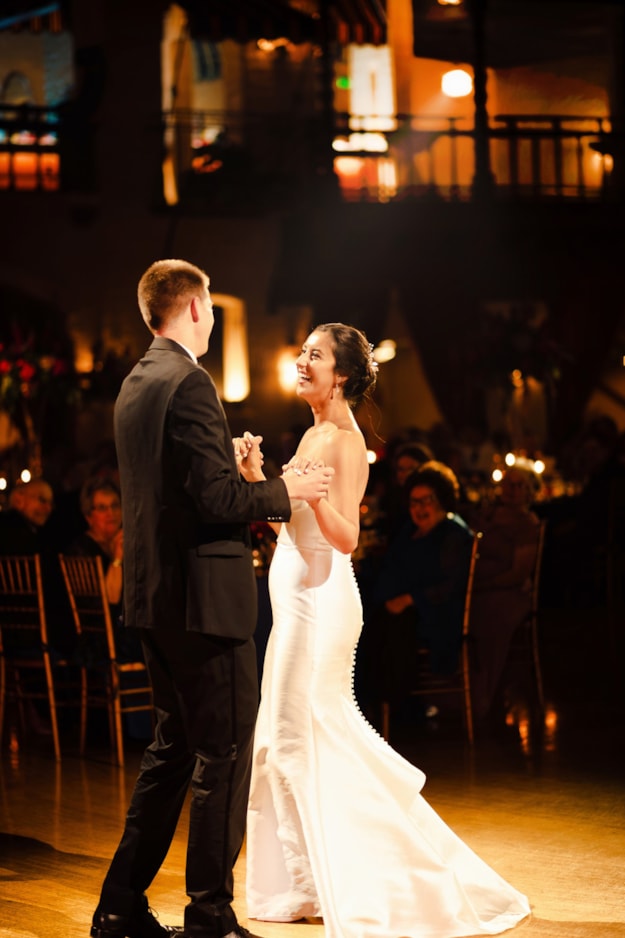 Cultural Elegance: A Greek-Inspired Affair
From the moment guests arrived, they were transported to a world of elegance and Greek-inspired splendor. The cocktail hour menu was a culinary delight as the aroma of freshly cooked Saganaki, a Greek dish of flaming cheese, filled the air as talented chefs prepared it right before guests' eyes. Passed hors d'oeuvres with mouth watering spanakopita and tiropita were a delightful prelude to the culinary journey that awaited.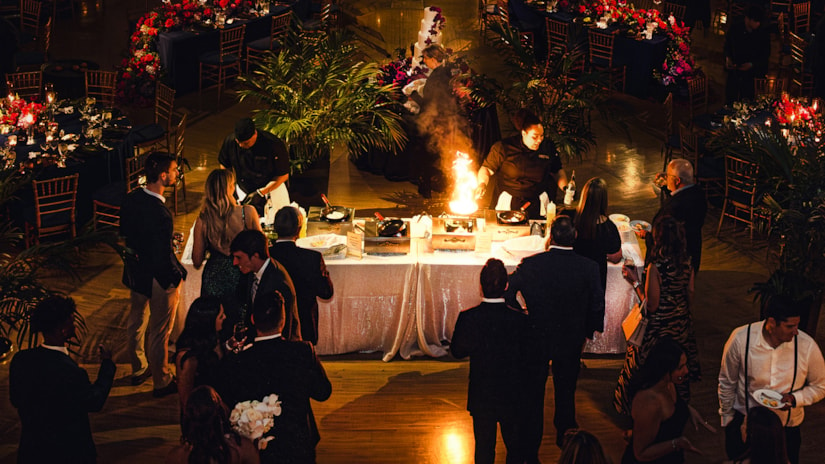 For those wanting to further explore the bride's heritage, a specialty Greek bar was a true highlight. Guests could enjoy specialty-themed cocktails like an Ouzo Martini, Ouzo Mojito, Honey and Lemon Ouzo, or the delectable Baklava Cocktail. It was a flight through the rich flavors of Greece that perfectly complemented the evening's festivities.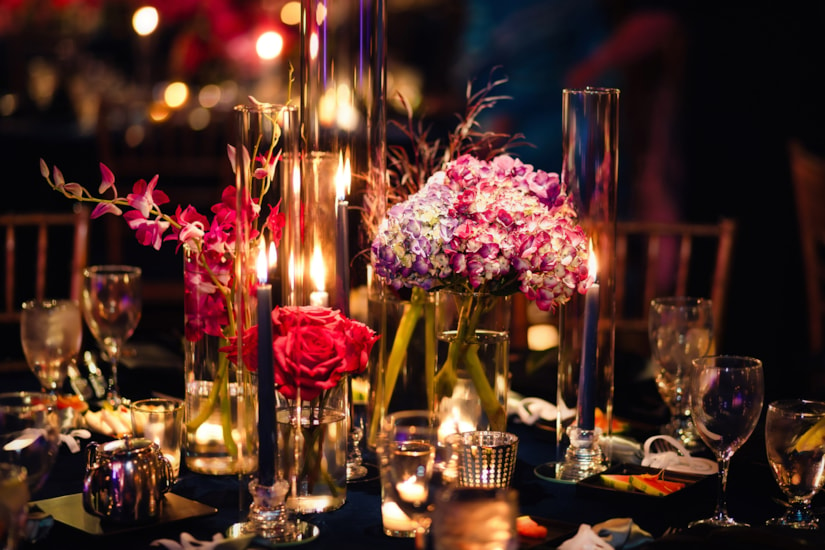 Elegance in Every Detail: Setting the Scene
As the sun began to set, guests were invited to take their seats for dinner. As they found their tables, it was impossible not to miss the impeccable attention to detail. The centerpieces were a visual delight, consisting of aromatic pink florals and candles of varying heights. They added a touch of romance and sophistication to the dining experience, creating an atmosphere that was both enchanting and inviting.
Guests dined on specialty black matte dinnerware, with each place setting featuring a magnolia leaf scripted with the guest's name, adding a personal touch to the evening. The guest dinner tables were a vision of opulence, dressed in alternating marine velvet, navy Italian crush, and Nile blue satin linens. The accompanying black satin napkins were elegantly folded in a vertical pleated band, creating a striking contrast. Gold chivari chairs with navy cushions provided comfortable and regal seating.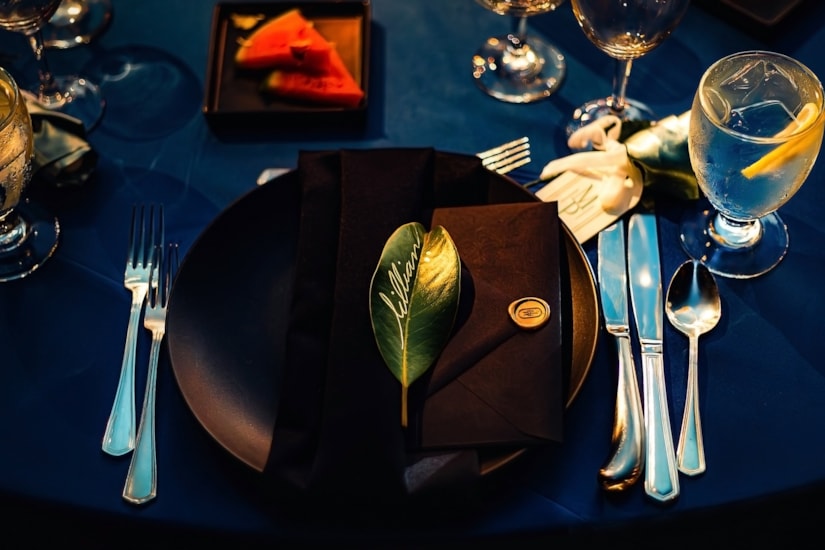 The head table was truly a sight to be seen - a custom creation, its winding shape was designed to fit 47 of their most special guests. It featured a runner of pink floral and lush greenery that ran down the middle, creating a focal point that symbolizes growth, life, and the couple's shared journey.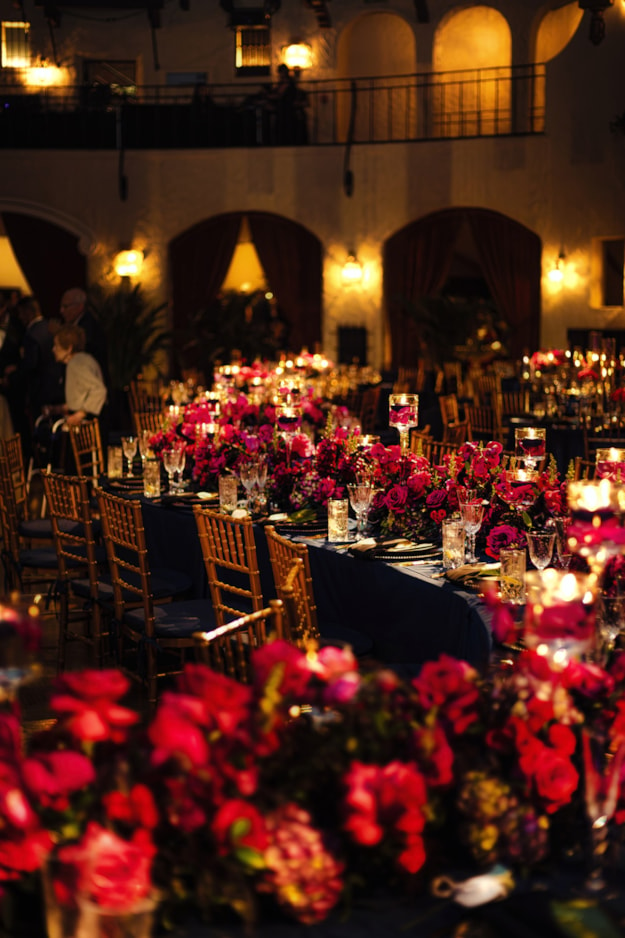 A Feast for the Senses
Guests were treated to a sumptuous dinner created by Crystal's award-winning culinary team that catered to their diverse tastes. The entree offered a choice between the black pepper crusted filet of beef tenderloin and verlasso salmon filets with a lemon dill cream sauce. It was a culinary journey that delighted every palate.
For dessert, the couple chose a masterpiece from Le Petit Gateau – a towering five-tier wedding cake adorned with cascading flowers that matched the centerpieces. Layers of perfection were served with whipped cream, fresh strawberries, and a drizzling of raspberry coulis, creating a heavenly dessert experience. Mini Greek desserts were also available, adding a touch of tradition and sweetness to the evening.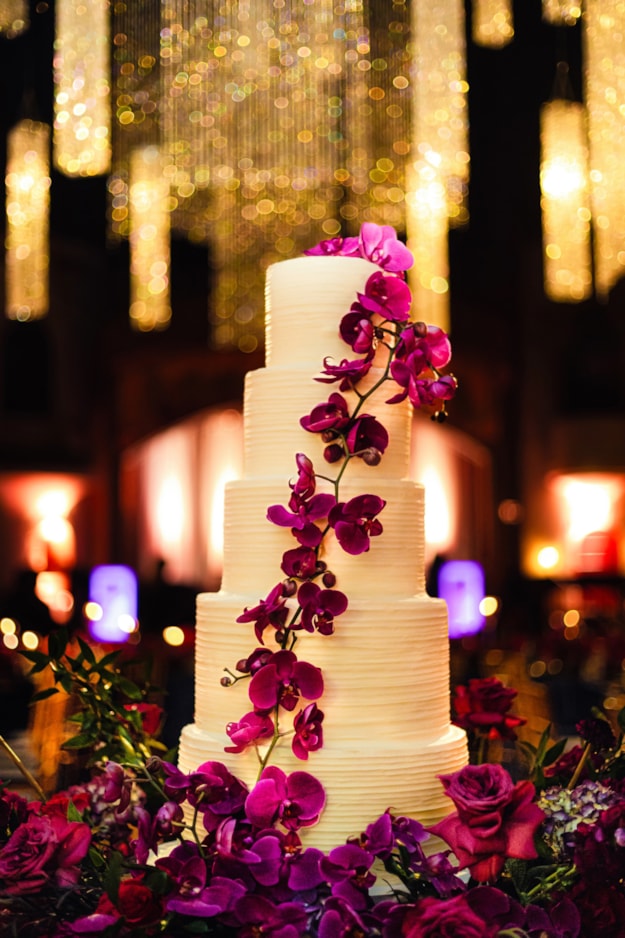 Late-Night Festivities
To set the mood for an extended evening of celebration, the couple and their guests danced to the electrifying tunes of the band Sarlas. The music filled the ballroom, creating an atmosphere of joy and festivity. As the night unfolded, guests were treated to late-night snacks of "Nick's Style" Stromboli and crispy french fries served in branded paper cups. It was the needed bite to fuel the dancing and festivities that continued into the night.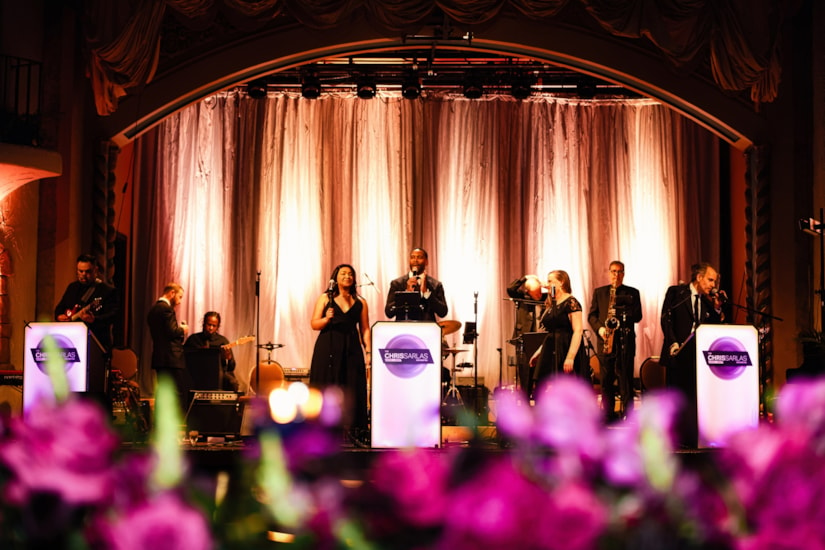 A Grand Farewell
As the night drew to a close, the couple bid farewell to their guests in a grand style. A sparkler exit illuminated the night as they made their way to a vintage car waiting to whisk them away into the beginning of their new journey together.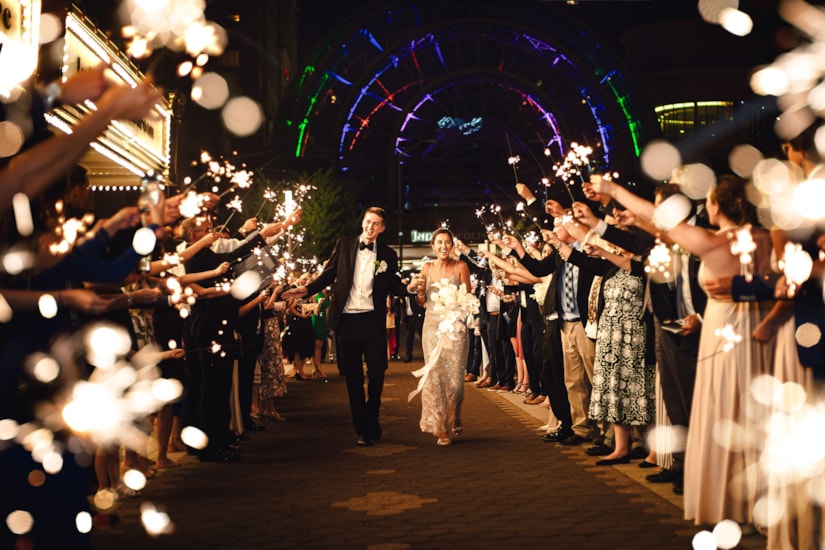 The Coglan Leonard Wedding was a masterpiece of love and elegance. It was a celebration that left every guest with a heart full of joy and memories that will be cherished for a lifetime. Here's to a lifetime of love, happiness, and delicious memories for Megan and Peter! Thank you for entrusting Crystal Signature Events for your special day!
If you or someone you know is interested in hosting an event at one of our three distincitive venues, contact us today!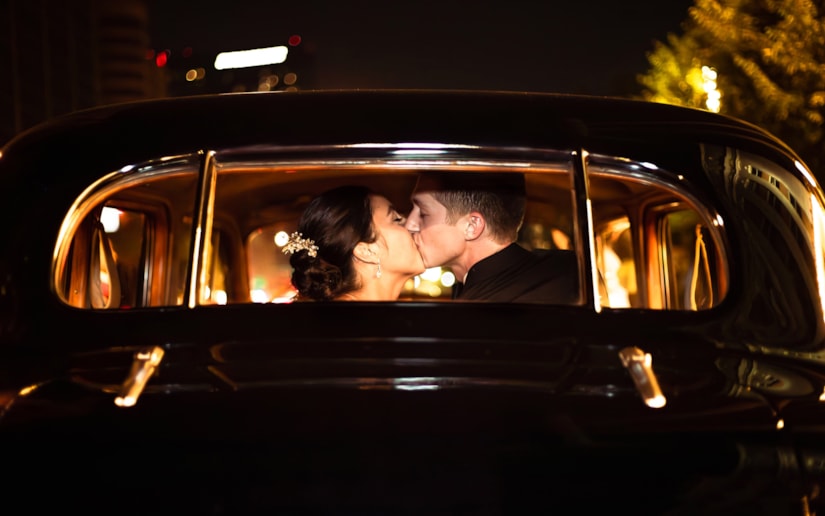 VENDORS
Venue: The Indiana Roof Ballroom
Caterer: Crystal Signature Events
Planner: Jean with Blue Llama Events
Band: Sarlas Music
Photographer: Meg Day
Chandelier: MichaelAngelos Events
Florist: Pomp and Bloom
Plants: Engledow
Bakery: Le Petit Gâteau
Rentals: A Classic Party Rental
Custom Table: Impact Group
Wedding and Reception Photos
Related Topics: Historic Venues, Event Planning xxx, Catering, Crystal Catering, Wedding Planning, Wedding Ideas, Event Decor, Indiana Roof Ballroom, Event Venues, Downtown Venues, Special Event Catering, Venues