MS Gala at The Crane Bay Event Center
As experts in our industry, we have had the privilege of hosting countless remarkable events, but the "Don't Stop 'til You Beat MS" Gala hosted by IN Cure of MS was truly a night to remember. On this special evening hosted by the nonprofit organization based in Carmel, Indiana, The Crane Bay Event Center was transformed into a glittering homage to the legendary Michael Jackson. It was all done with the mission to raise funds and awareness for Progressive Multiple Sclerosis and benefit the National MS Society. With the theme set and the stage illuminated, we welcomed 330 guests for an unforgettable night of music, hope, and unity.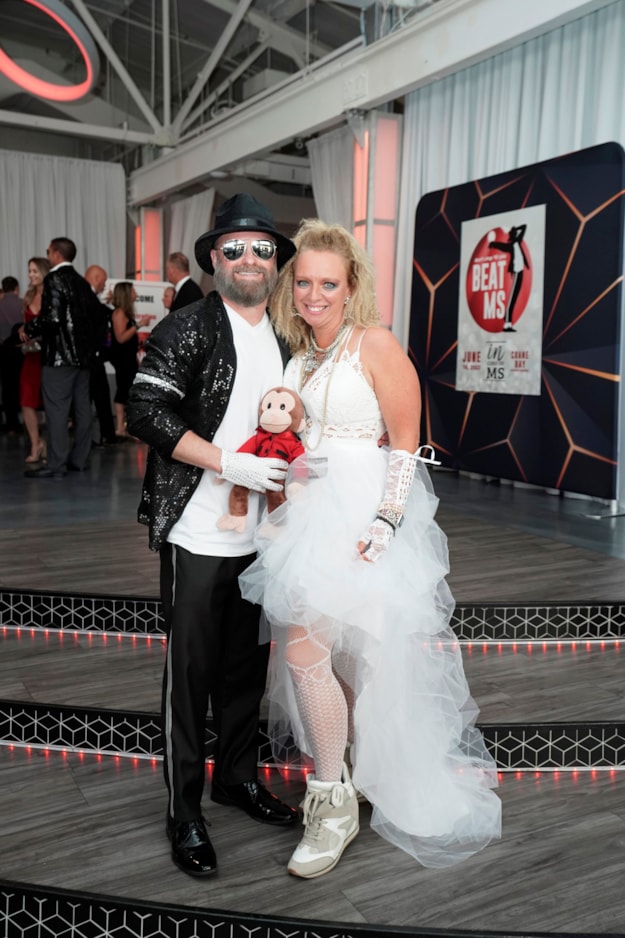 Setting the Stage
From the moment the event began, it was clear that this gala was something truly extraordinary. Guests were greeted with a moonwalk-worthy welcome consisting of a striking step-and-repeat, indulgent white drapery, and pops of red courtesy of the cocktail linens and florals. In addition to a silent auction,the evening began with a unique interactive experience featuring an array of classic arcade games provided by Video Game Palooza. Guests had the opportunity to challenge each other in friendly competitions while reliving their youth as an added layer of entertainment to the night.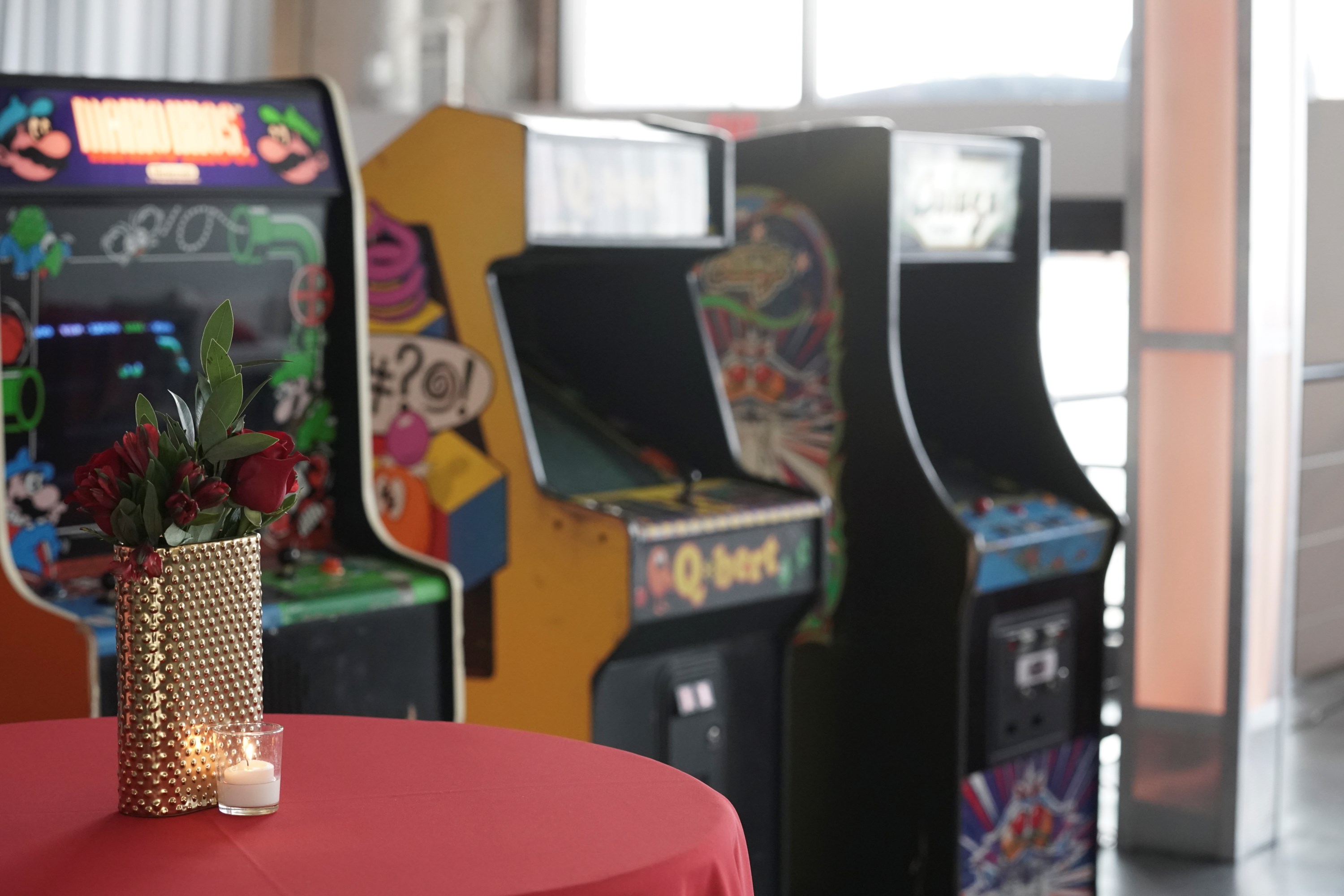 The passed hors d'oeuvres during cocktail hour were carefully curated by Crystal to tantalize the senses, featuring Brie Crostini topped with Blackberry Jam and Candied Almonds, Fried Coconut Shrimp Shooters with Pineapple Mango Chutney, and Hot Honey Chicken Waffles with a Maple Bacon Jam. Each bite was a perfect blend of flavors that left guests eager for what culinary delight was to come.
The bar menu was also on-point, featuring a selection of specialty cocktails worth sipping on including, El Jimador Margaritas, Finlandia and Cranberry, and Jack Honey and Lemonade. Each expertly crafted and garnished by our talented mixologists.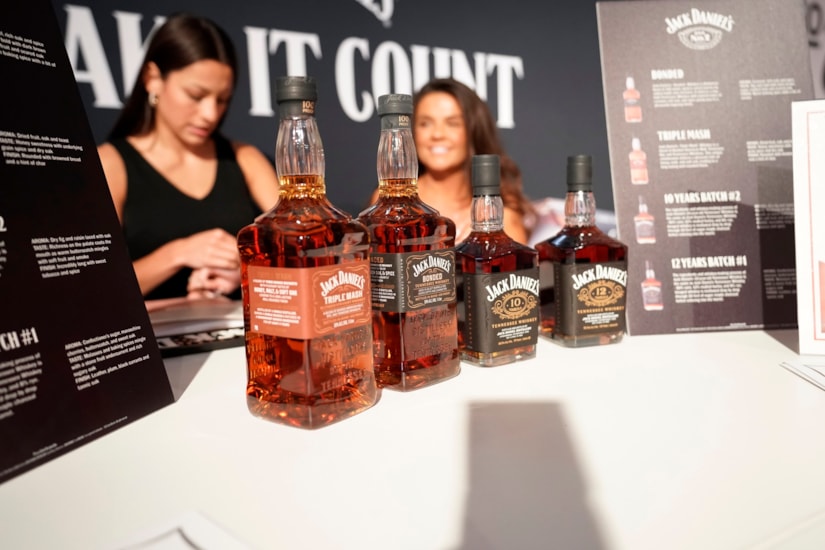 A Culinary Delight
Once cocktail hour concluded, it was time to pull back the drapes to reveal where the dinner and program would take place. As guests made their way to their seats they took in the visual delight of the table settings. Alternating rented pewter swirl, black sequin, and cherry ripple table linens created a dynamic and glamorous atmosphere, while the mixed height floral centerpieces of roses and greenery captivated the senses. Each table was a work of art, contributing to the overall ambiance of the event.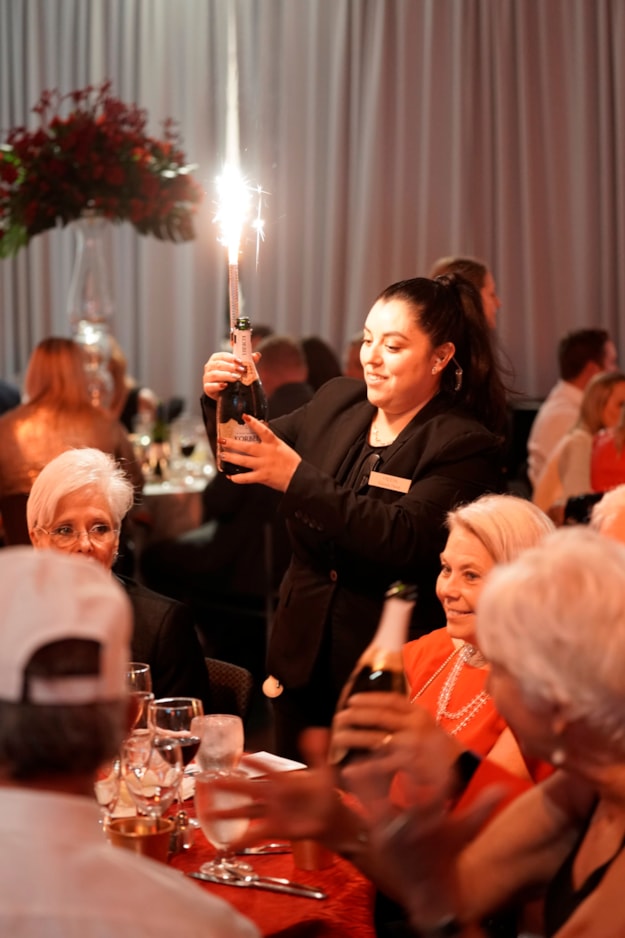 Guests were welcomed to their seat with tableside champagne service and a pre-set Mixed Greens Salad featuring Strawberries, Blueberries, Mandarin Oranges, Candied Pecans, and Crumbled Goat Cheese, all drizzled with a Poppyseed Vinaigrette and garnished with Julienne Apples. The main course took over the show with a duet plate showcasing Bourbon Glazed Frenched Chicken with a Pear Mostarda alongside a Bourbon Glazed Pork Ribeye with a Green Onion Fringe Garnish. Sweet Potato Mash and Broccolini with Red Peppers sides completed the exquisite meal.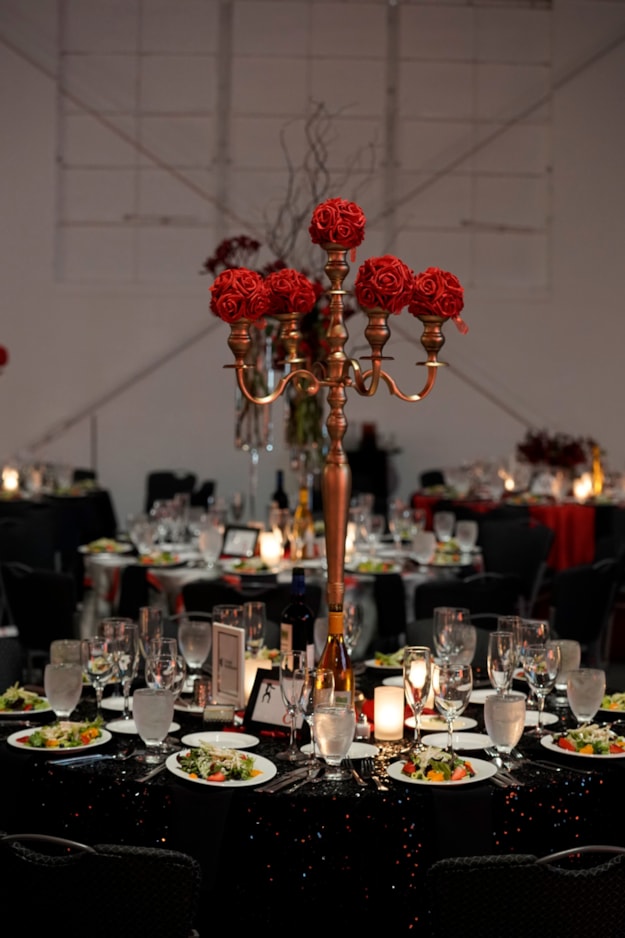 A Night to Remember
As plates were cleared, Jeff Saturday, Honorary Chair for the gala, took to the stage for the program and live auction where additional funds were raised to assist and change the lives of those affected by MS. But the night didn't end there. After the program was the electrifying performance by the renowned band Who's Bad. This tribute band captivated the audience with their uncanny resemblance to Michael Jackson and their flawless renditions of his greatest hits. The dance floor was never empty, as guests of all ages moved to the infectious rhythms of MJ's music.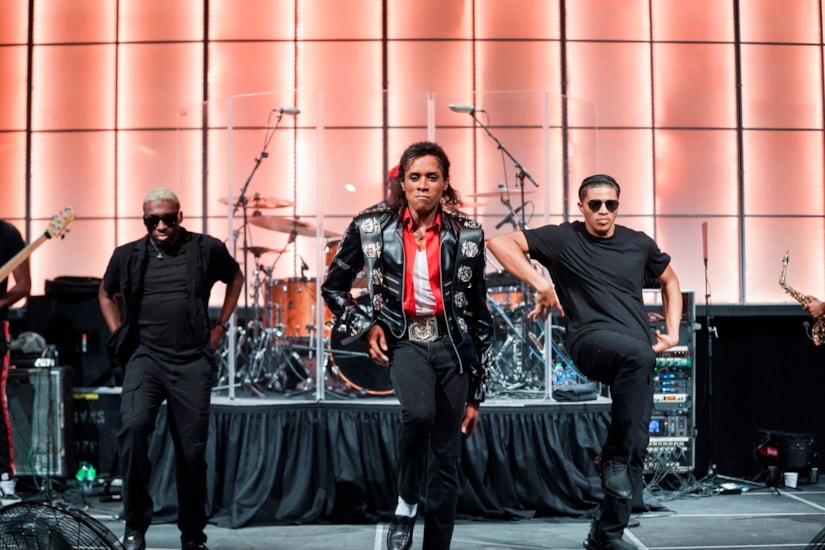 As the evening continued, the dessert station opened, beckoning with irresistible treats. Powdered Sugar Doughnut Holes and Cinnamon Sugar Doughnut Holes from the local bakery icon, Long's Bakery, satisfied sweet cravings and provided a whimsical touch to the night's offerings.
The "Don't Stop 'til You Beat MS" Gala was not just a night of glamor and entertainment; it was a night of hope and unity. Together, vital funds were raised for Progressive Multiple Sclerosis research through the IN Cure for MS and National MS Society. We extend our deepest gratitude to the guests who attended, the talented culinary team, the dedicated event management team, and all the amazing vendors. Without that collective effort, this night would not have been possible.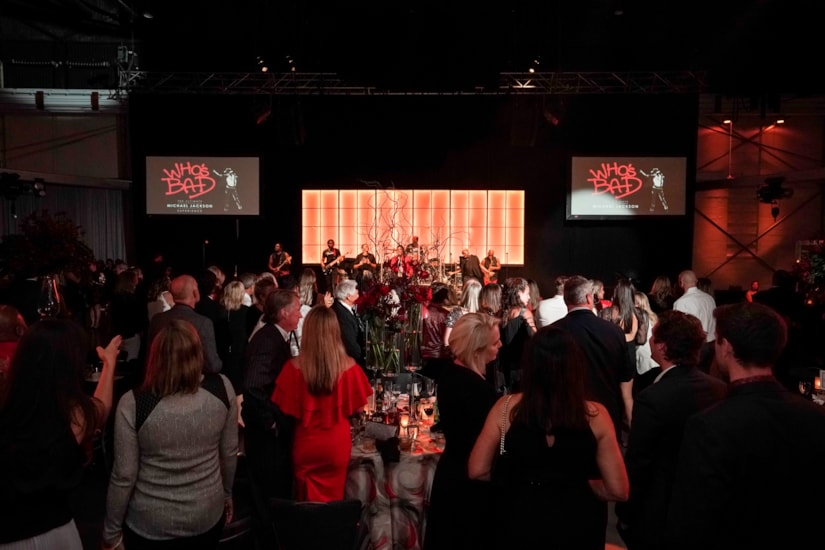 Crystal was honored to be part of such a meaningful and successful evening, where it was proven how one event can make a difference in the lives of those living with Multiple Sclerosis. Until next time, let's keep the beat alive and continue the fight against MS.
VENDORS
Venue: The Crane Bay Event Center
Caterer: Crystal Signature Events
Planner/Decor: Detail + Design
Photographer: Jennifer Driscoll
Videographer: Bob Ridge with IndyVisual
Band: Who's Bad
Arcade Games: Video Game Palooza
Silent Auction: Qtego
Dessert: Long's Bakery
More memories from the MS Gala at Crane Bay
Related Topics: Catering, Event Decor, Indianapolis Event Catering, Crane Bay Event Center, Charity and Fundraising Events