Since 1977, Crystal Catering has led Indianapolis in elevating culinary experiences and executing premier events.
Founders and siblings Jack Bayt and Antonia Zunarelli, alongside their family members, built the company from their strong Italian roots and culinary endeavors in Indianapolis. What started as a family produce stand at City Market led to a sandwich shop near the Capitol building, and soon a thriving catering business. Next came venue management and event execution, and today, Crystal is proud to serve as one of the largest catering and event management companies in the state, having hosted thousands of events for millions of guests over the years, including some of the city's most memorable.
We are now proud to unveil our expanded brand, which reflects our continued commitment to the full-service catering and event offerings that we have always delivered, while introducing new signature event experiences designed, promoted, and executed by our team of professionals for the public to enjoy.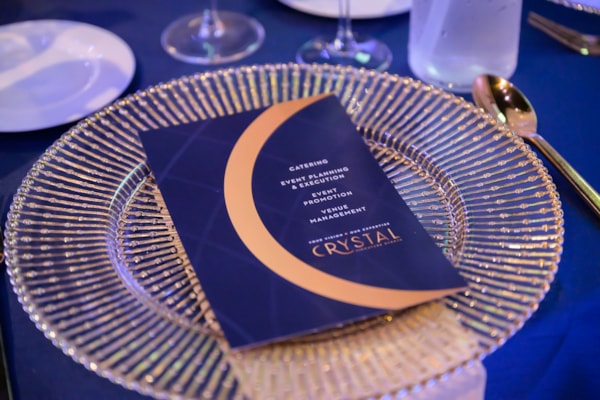 This progression in our company and name was designed to honor our history, energize our future, and reflect the full scope of our expertise, including event planning and execution, venue management, event promotion, and of course, catering.
We look forward to continuing to deliver these services with unrivaled expertise, flawless execution, and attention to every detail at our three distinctive, premier downtown Indianapolis venues: The Crane Bay Event Center, The Indiana Roof Ballroom, and The Heirloom at N. K. Hurst.
We invite you to raise your glass with us as we celebrate this evolution of Crystal, where Your Vision is Our Expertise. Cheers!
Gallery Note: Our Crystal Signature Events' leadership team was proud to unveil our new brand first to our dedicated employees during an event at Crane Bay. Thank you to A Classic for providing the linens, chargers, glassware, flatware, and chairs, and to Amy Payne with Aimed Photography for capturing the event through photography.
Welcome to Crystal Signature Events
Related Topics: Crystal News, Event Venues, Catering, Event Planning, Crane Bay Event Center, Heirloom at N. K. Hurst, Indiana Roof Ballroom