The holidays should be a fun and relaxing time to catch up with friends and family, but if you are the one hosting it can sometimes turn stressful and overwhelming instead. Who is coming? What should be on the menu? How do you decorate? For answers to these questions and more, Crystal Signature Events is here to help! With thousands of events under our belt, here are some of our top holiday hosting tips to ensure your get-together is seamless and joyful for all – yourself included.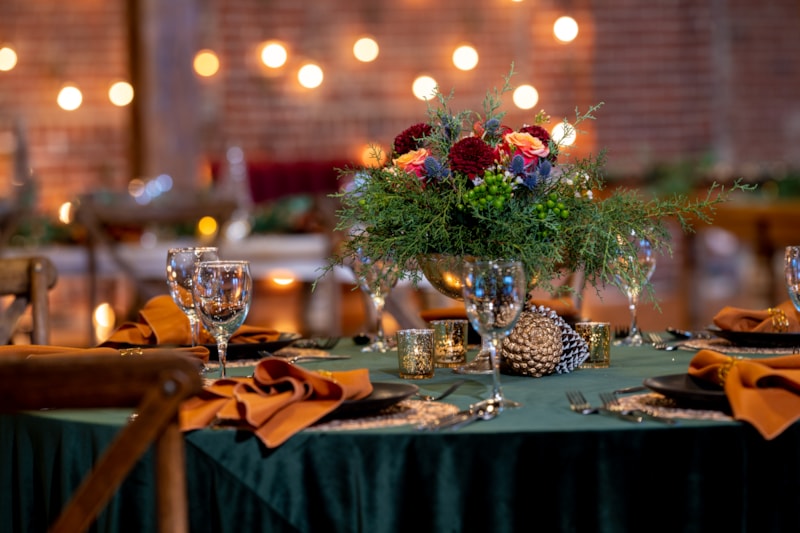 1. Determine the guest list. The number of people attending (and who) is an important piece of information you will use throughout your planning.
2. Create the menu. Make a menu that is balanced and takes into consideration the dietary restrictions and ages of the guests attending.
3. Consider appetizers. Light bites make for a great buffer before dinner in case timing runs over and helps your guests to fill up a little bit to prevent running out of food.
4. Purchase proper portion sizes. By keeping standard food portions in mind when creating your grocery list, you can be sure to have the right amount for everyone at the table. 5-6 oz of cooked meat, 3-4 oz of vegetables, and 3-4 oz of starch per person is the standard rule of thumb. If children are attending, you can decrease portions by an ounce or two.
5. Prep as much as possible the day before. At Crystal Signature Events, we host events with hundreds of guests at a time, and guests are always curious how we get it all done. The answer simply lies in our prep. Things like seasoning meat, chopping vegetables and making sauces are all things that can be done in advance to make the day-of go smoother and quicker.
6. Get the timing right. Make sure you know how long everything needs to cook so you can schedule your prep and cooking time appropriately. Coordinating the various dishes and knowing your mealtime is key so everything is done, hot and ready to be served at once.
7. Share responsibility. Never be afraid to ask for help. Crystal Signature Events has three premier downtown Indianapolis locations perfect for hosting your social or corporate holiday party. Or if you're hosting in-home, consider A Classic Party Rental and their newly launched Rent the Table Program. Choose one of their pre-designed themes that includes plates, glassware, flatware, table runners, napkins, votives, place cards and menu cards! All neatly packed in a box for easy transportation with instructions included on how to set the table. What's even better, is the dishes can just be rinsed and repacked, alleviating the dread of doing dishes and allowing you to spend more time with your guests. Learn more by watching this video A-Classic was recently featured on by WISH-TV.
How to Elevate Your Holiday Gathering
Now that the basics are covered, here are some additional tips on how to take your holiday gathering to the next level. These tips hit all of the senses in order to create warmth and joy the day of, as well as core memories for years to come.
1. Individually Plate a Course. Individually plating an appetizer, salad, or dessert can add an element of decor to the tablescape, get your guests to take a seat and enjoy without having to create a line in the kitchen. One example is to create a smaller version of a charcuterie board and pre-set on each place setting.
2. Offer a Specialty Drink. Welcome your guests warmly…with a drink. Some of our favorites are Crystal Signatures Events' Caramel Apple Cider, Bourbon Rum Punch, and Cinnamon Sangria.
3. Garnish the Food. Dressing up the presentation of the food makes for a picture worthy conversation piece and is sure to impress your guests. Using herbs such as rosemary, parsley, mint or fruits such as; berries and orange slices can make the food more colorful and appetizing at the same time..
4. Arrange for Florals. Floral arrangements elevate the design of the table in the best way. Let the professionals, such as Rusted Window, create a centerpiece that will keep your guests talking.
5. Decorate the Food Table. A practical way to decorate the tables and create cohesiveness for your event is to incorporate ingredients from the menu into the centerpiece. Items like artichokes, pomegranates, apples, and pears, as well as greenery create a festive atmosphere and can be easily bought when already out grocery shopping.
6. Create a Photo Op. Design a backdrop that your guests can use to photograph themselves in front of. Incorporate draping and lighting along with already existing holiday decor. This will help them to remember the special day for years to come.
7. Entertain the Kids. The best part of the holidays is spending time with family and friends, but that can be a challenge with the little ones. Having a space dedicated to the kids with classic holiday movies in the background and some arts and crafts to keep them entertained so the adults can catch up will be much appreciated by your guests.
8. Make a Playlist. What's a holiday gathering without some holiday jams? Make everyone's spirit cheerful with a variety of holiday music. Keep the volume to a background level so conversations may still be enjoyed.
9. Enhance the Smell. While it will naturally smell wonderful from all the yummy food being prepared, there's nothing better than the scent of pine or mulled cider to create a feeling of coziness and warmth. Scents and memories are so intertwined that years later your guests may smell a similar scent and be immediately transported back to your gathering and the fun they had.
10. The Gift of Giving. Many hosts love to offer a gift to their guests as an appreciation for coming. Gifts do not need to be expensive, nor large. Individually wrapped local chocolates, or something more practical like mini shepards pies made from the leftovers are sure to be a crowd pleaser. As another act of giving, ask your guests to come with a toy or item that can be donated to your favorite charity to make everyone feel a part of something special in helping others.
For more visual appeal and to see these hosting tips in action, watch this segment by FOX59 which takes place at one of Crystal's premier venues, The Heirloom at N.K. Hurst.
Happy hosting!
Holiday Event Hosting Tips - Photo Gallery
Related Topics: Event Planning, Event Venues, Downtown Venues, Parties and Special Events, Heirloom at N. K. Hurst, A Classic Party Rental