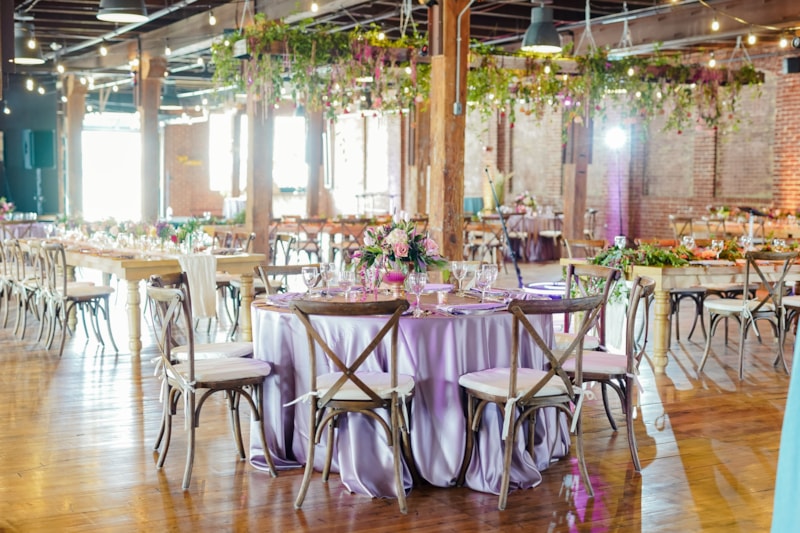 Checklist For Selecting The Perfect Wedding Venue
The proposal was just as you had always imagined and you said YES! So what's next? It's time to let the planning begin! Here at Crystal Signature Events, we understand that planning your wedding and reception should not be a stress-induced time for you as a newly engaged couple. It should be a really enjoyable time where you create a celebration that will be a stepping stone to a wonderful life together. Likely, the biggest decision you will need to make first when you plan your wedding is the VENUE. But before you start scheduling tours here are some important considerations to think through beforehand.
Determine your budget - This is so important and can truly help you avoid much of the planning stress and fatigue couples experience. If you have no idea where to even begin when budgeting for your wedding, check out "How Much Does a Wedding Cost?" for some good advice.

Determine a guest count – This is a flexible number that can be adjusted as you get further into planning, but having some idea of how many people you want at your wedding (and can fit in your budget) will save you a great deal of time when looking at venues. It's important to be aware that a venue's capacity may change if you are needing space for a reception only versus space for a ceremony and reception. For example, with our Crystal Signature Events venues The Indiana Roof Ballroom hosts up to 600 for a reception or 400 for a ceremony and reception. The Crane Bay Event Center hosts up to 500 for a reception or 350 for a ceremony and reception. The Heirloom at N.K. Hurst hosts up to 325 for a reception or 200 for a ceremony and reception.

Choose optional dates – The perfect venue is not so perfect if your ideal date isn't available. Your ability to be flexible can be very helpful in the booking process. Consider the time of year you would like to be married and block out several weekends that could potentially work. This is also a time to check with family and friends that you definitely cannot have your wedding without. Also remember that weddings do not have to fall on a Saturday. Fridays and Sundays are not only typically more available, but also include a cost savings.

Create your vision - Think of this as large brushstrokes. It isn't time for the nitty gritty of nailing down every detail. But what are a handful of features that you both want for your wedding and wedding venue? More formal and elegant like The Indiana Roof Ballroom? Modern and versatile like The Crane Bay? Or perhaps more rustic and vintage like The Heirloom at N.K. Hurst? Connect to the feeling you want to invoke within yourselves and your guests on your big day.

Consider your planning capacity - Planning a wedding is no small feat, and unless you are a true DIY couple most need varying levels of professional help along the way. Services included in a venue rental run the gamut. Some venues only come with the space - meaning you're in charge of set-up and all the logistical details. Other spaces, like any of the three distinct venues managed by Crystal Signature Events, offer a full-service approach. Meaning everything from menu creation to layout and event flow design to day-of coordination and set-up and breakdown, we will be there to execute so you can simply show up and bask in your special day.
Once you have the above determined you can begin researching and earmarking venues that appear to check off your initial boxes. Once you have narrowed the list down to a handful, set up a time to tour each space. If you are looking at venues out of town and in-person tours aren't practical, schedule a phone call or video tour instead and be sure to ask for a link of photos and videos of real weddings that they've hosted. Then at the tour or virtual meeting simply follow this very thorough checklist to be sure no question is left unasked.
BASICS
Which of our preferred dates are available?
What is the venue rental fee and what is all included in that fee? Are there any optional add-ons? Are tax and gratuity included in that price?
How much is the deposit and when is it and other payments due? What is the cancellation and refund policy?
What if we need to change the date of our wedding? Is there a fee associated with that or a deadline to make that change?
Do you have liability insurance? Do we need to take out our own liability insurance?
Does the venue rental include a coordinator or point person as we plan our wedding and will they be on-site the day of?
What is the maximum guest capacity in the space (or spaces) that would be used?
DÉCOR & VENUE SPACE
What type of décor is or is not allowed?
Do you have a list of preferred vendors to assist with décor?
Does the venue have its own décor inventory and if yes, is there a cost associated with using it?
What options are available regarding the layout of the venue? Can we move things around, bring our own things in, etc?
What space options are available within the venue? Different spaces for ceremony, cocktail hour & reception if needed? Check out The Best Seating Arrangement For Your Event for ideas on set-up.
Is there a coat check? Do you provide staff for this or is it self-serve? Is there a cost associated with this?
How many restrooms are available and their locations? Are all restrooms handicap accessible?
Will staff be onsite to take care of restroom cleanliness as well as emptying trash cans?
How close is parking? Is it complimentary? Is there a valet service? Are cabs and ride-shares easily accessible from the venue?
What are the handicap accessible options?
Do you provide signage to direct guests?
What are inclement weather plans?
Will the venue assist with getting gifts to a designated car or location after the reception?
If using the venue for a ceremony location, are ready rooms included? A rehearsal? What is access time for that?
What time does access to the venue begin for set-up? How long post-event do we have for tear down?
What audio-visual equipment is available for speeches and/or video? Is there an added cost or recommended vendors if you do not provide?
Are there special lighting options?
What space and set-up is available for a live band or DJ? Is there a noise ordinance that determines when music must conclude?
What time can outside vendors arrive for set-up?
CATERING
Does the venue have an exclusive in-house caterer or allow outside catering? If outside, is there a list of preferred caterers?
If the venue is providing the wedding catering, can we do a food tasting before we finalize our menu selections? Is there an extra cost associated with this?
Is there a food and beverage minimum?
What is the tax and service charge for food and beverages?
If outside catering is allowed, is there a kitchen available for them?
Do the caterer and the venue have a relationship? This isn't necessary, but can be a significant value-add if and when any issues or questions arise with logistics.
For outside catering, what time may they arrive for set-up? What are policies for clean-up and tear down?
Are tables, linens, chairs, plates, silverware, and glassware provided or do we need to rent those ourselves? If they are provided, what are the options and costs associated with that? If we want to bring in our own, is there a fee to do that?
Can we bring in cake from an outside baker or do we have to have the cake made on-site? If we bring in our own cake, is there an extra fee associated with that? When will the baker be able to deliver the cake?
If we bring our own cake, is there a cake-cutting fee? Clarify if the venue provides the cake, whether they will charge a cake-cutting fee also. Ask if that can be waived if they provide the cake.
What is the beverage plan? Does the venue provide all the alcohol and the bartenders?
What fees are associated with the beverage plan? Do they charge a flat fee? Do they charge by the drink? Here are some tips when estimating how much your guests will drink at the reception.
How is the alcohol priced? Is there a bar minimum? How does tipping work?
Can we provide our own wine, beer, champagne, and spirits? Is there a corkage fee or extra fee for providing our own beverages?
If we bring our own bartenders, do we need a permit or license for that?
What are the options available to us for serving our meal and the costs associated? Check out The Best Catering Service Options for Your Event for some ideas.
Once you have all the answers to your questions for each venue you're considering, it's time to compile the pros and cons and choose a winner! You should feel a true partnership with the venue of your choosing – after all you will be spending lots of time planning together. After choosing, you'll be asked to sign a contract so be sure to read the fine print and double-check that details are sorted and that all questions have been asked. Once everything is good to go you can sign on that dotted line and start planning the rest of your dream wedding! We wish you all the best on your upcoming nuptials!
Wedding Venue Photo Gallery
Related Topics: Event Planning, Event Venues, Venues, Wedding Catering, Wedding Receptions, Crane Bay Event Center, Heirloom at N. K. Hurst, Indiana Roof Ballroom