A venue is more than just a space. It is a place to celebrate and create lasting memories. So beyond finding a venue that is the right size for your event, you want to find a place that speaks to you and has some wonderful stories to tell. Indiana is home to a number of historic event venues that might be the perfect space for your next wedding, charity event, or corporate party. Let's take a look at some of the treasured event venues throughout the state of Indiana.
Indiana Roof Ballroom, Indianapolis
Starting in the capital city of Indianapolis, you will find a number of incredible event venues. Probably most well known in the city is the historic Indiana Roof Ballroom, resembling a quaint European village with a soaring 30-foot ceiling adorned with a starry blue night sky and shimmering crescent moon. You will feel like you are dancing among the stars in this iconic banquet hall with its famous 8,700 square foot circular dance floor . A Historic Landmark since 1927, The Roof is known for its historic guests. Take yourself back in time and imagine the big band dances of the 1940s, listening to the sounds of Tommy Dorsey, Louis Armstrong, or Guy Lombardo. Or imagine being serenaded from the balcony by Bing Cosby or, none other than Mr. Blue Eyes himself, Frank Sinatra. With a capacity of 100 – 1,500 people the Indiana Roof Ballroom is a one-of-a-kind venue for your next event. It is time for you to become a part of Indiana history!
Crane Bay Event Center, Indianapolis
Not far from the notable Indiana Roof Ballroom is the iconic Crane Bay Event Center. This unique venue space is housed in a building that dates back to the 1800s. Crane Bay is anything but old, however. Modernized with an on-trend, urban, and edgy industrial style atmosphere, Crane Bay offers a flexible and wide-open space that can be tailored to meet the needs of smaller or larger groups for wedding receptions or social events. Guests can even step outside and enjoy the private, outdoor patio while looking onto the downtown Indianapolis skyline. Crane Bay hosted the Rolling Stone Magazine Super Bowl XLVI party in 2012 and is continually sought after as a top venue option in the city.
Indianapolis City Market, Indianapolis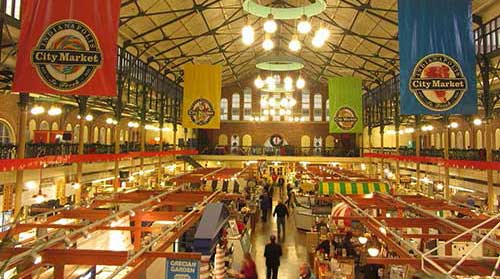 Head over to the Near Eastside of Indianapolis, for the unique, community-driven location of Indianapolis' City Market. When the City Market opened in 1886, it was a hub of life in the vibrant Indianapolis downtown area. Besides being a place for the sale of meat and produce, City Market grew into a place where citizens did more than shop for food products. The Market became an important community gathering place. As a member of the National Register of Historic Places, City Market currently operates as a 501(c)3 non-profit corporation and is proud to support small businesses, non-profits, and the local Indianapolis community as a whole. Available to host events of almost any size, City Market is a perfect destination for your corporate and non-profit events, happy hours, and weddings and works with a variety of local caterers and merchants.
Holliday Park, Indianapolis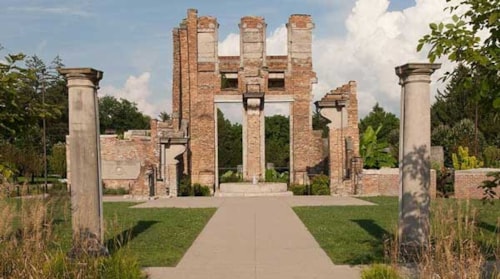 Are you looking for a unique outdoor venue? Then look no further than Holliday Park. Residents of Indianapolis will tell of a childhood walking through this beautiful park, hiking in the wooded trails, and running among the historic Ruins of Holliday Park. Preserved for generations to come, The Ruins at Holliday Park are nestled among stunning gardens and spacious lawns and is a picture-perfect location for your next event. With its dramatic collection of architectural elements, including soaring columns and water features, no guest will ever forget time spent at the Ruins of Holliday Park.
Morris PAC, South Bend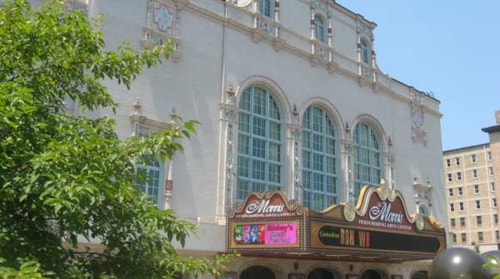 Those in the northern part of Indiana, look no further than the Morris Performing Arts Center in South Bend. Originally named the Palace Theatre, it opened its doors in 1922 as a vaudeville house and later a movie palace. As the home of the University of Notre Dame, where else could the opening of Knute Rockne: All American premiere? Today within the Morris PAC and the neighboring Palais Royale ballroom, there are many options available for your event. Amongst the grandeur of its 1920s charm, the Morris PAC is sure to please.
Old Post Office, Evansville
Traveling to the southern part of Indiana, the Old Post Office is one of Evansville's most treasured landmarks. Built in 1873 by Charles Pearce and Company and featuring round arches, stone masonry and towers, the Old Post Office was added to the National Register of Historic Places in 1973. Recently restored to its original glory, the Old Post Office offers two venue spaces. With stunning architecture travel back in time for an unforgettable wedding or to host your next non-profit fundraising event.
Conclusion
Whether a repurposed building with cutting edge amenities or the beauty of ornate architectural features that will stun your guests, choose a venue that tells your story. A historic event venue can be the perfect backdrop for your next memorable event.
Need Help Catering Your Next Event?
Crystal Catering has been one of the leading catering companies in Central Indiana since 1981 and has relationships with many of Indianapolis' most beautiful and historic venues. Contact us to learn more.
Crystal Catering
Magical venues for specials events
Related Topics: Venues, Crane Bay Event Center, Holliday Park, Indiana Roof Ballroom, Parties and Special Events, Downtown Venues, Event Venues, Unique Venues, Corporate Events, Outdoor Venues, Wedding Receptions