You have chosen the event venue, and after a thorough search you have found the perfect caterer too. Your catering company is innovative, collaborative, and excited to explore unique event menu items.
Catering Event Options
Before heading into menu planning you will need to determine what type of event catering service is best suited for your event. The three main options include:
a plated meal,
a buffet,
and food stations.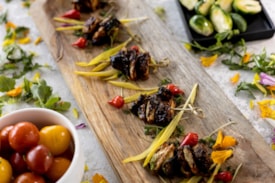 Each of these are workable for breakfast, lunch, or dinner service.
A plated meal is what most people refer to as a sit-down meal. Most often these are more formal events and generally more expensive. Plan for around two hours for a plated service meal. Buffets can take less time, work very well for breakfast, and lunch, and usually cost less. Be sure to make accommodations for any guest that would require assistance at the buffet stations. Finally, food stations are perfect for shorter events (e.g. evening networking events or cocktail receptions) prior to a sit-down meal.
Whatever type of event catering service works best for your event there are some points to remember while planning your meal.
Your Audience
Is this a formal event like a professional affair or celebratory occasion?
Do your guests commonly attend events similar to these?
What are the ages of your guests? Menu choices will vary if this is a corporate event, charity fundraiser, 50th wedding anniversary, or a sweet sixteen party.
What are the ethnic backgrounds of your guests and would they prefer specific food choices?
Accommodate Your Guests
Offer a variety of menu options for different food preferences
Consider food allergies and dietary restrictions
Be aware of any religious food requirements
Menu Choices
Recommend choosing three entrée options, multiple sides, different salad dressing choices, and two dessert options
Offer both lighter fare and richer choices
Consider locally-sourced food and seasonal dishes
Remember to include healthy food and vegetarian or vegan options
And Now For The Fun Part...
Once you have landed on the type of meal you will be serving, it is time to get to the exciting part. Your professional catering team will be a bountiful resource of suggestions as you make your final decisions. Here are some innovative menu options we are seeing in the catering arena these days.
Related Topics: Corporate Catering, Charity and Fundraising Events, Wedding Catering, Parties and Special Events, Party and Social Event Catering, Catering Ideas, Nonprofit Events