This article first appeared in Sophisticated Living magazine's "Sophisticated Celebrations", written by Annie Mosbaugh Knapp for the September/October 2022 issue.
Wedding at The Crane Bay Event Center in Downtown Indy
Carly Turner and Kyle Berry were married on September 18, 2021 in Indianapolis, at St. Paul's Episcopal Church, followed by a ceremony at The Crane Bay Event Center. The day began with the bride and her bridesmaids getting ready at her parents' home, while Kyle and his groomsmen gathered in a beautiful suite at the Ironworks Hotel (courtesy of a very kind upgrade from hotel management, the groom notes gratefully). The weather that day was glorious, so the bride did a "first look" with her father in her parents' backyard, followed by another with Kyle in the same spot.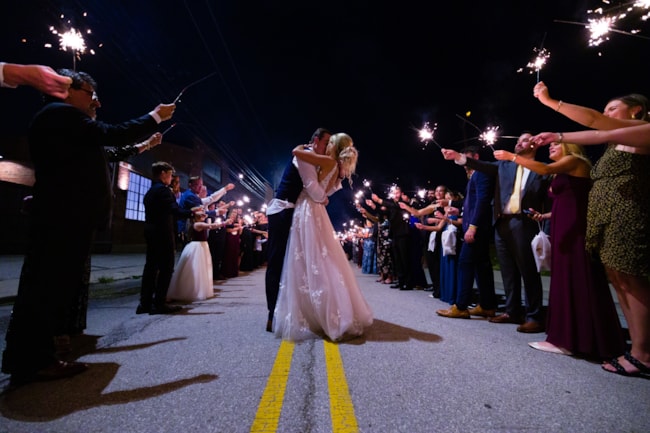 Then it was time for everyone to head to St. Paul's, where the bride had grown up attending church, for the ceremony; afterwards, a party bus took everyone to the reception at Crane Bay. The evening began with a cocktail hour that flowed between the indoor and outdoor spaces, then guests moved to the main room for the party to begin.
Carly recalls, "Crane Bay, Crystal Catering, and Detail & Design (specifically Gene Huddleson and Darcie Kornmeyer) absolutely knocked it out of the park - we had of course been to Crane Bay and were excited about the space, but even we were completely blown away with how they transformed it."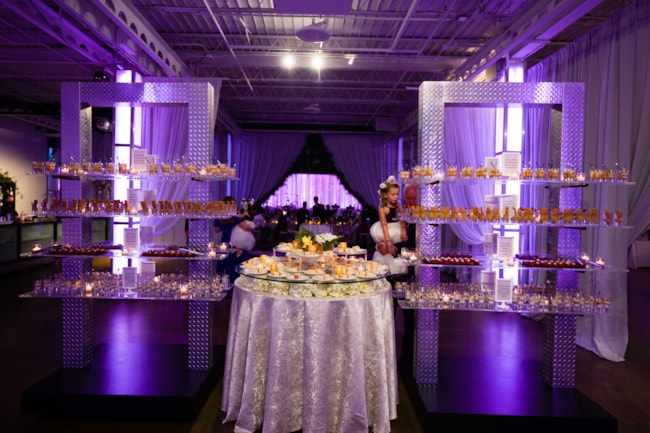 Following the couple's first dance to "Then" by Brad Paisley, and a speech by the bride's father that had everyone in tears, it was time for the party to begin. Says Carly, "Food stations dotted around the room gave everyone a chance to mingle with each other and with us, which was a lot of fun - the prime rib carving station and mashed potato bar were highlights." After dinner, the bride and groom had a father/daughter and mother/son dance. "At the end of each of these, we opened up the floor for all of the father/daughter pairs and mother/son pairs in the room to join us for the rest of the son," adds Carly. "A highlight was my dad dancing with my Grandma, who was turning 96 the following day."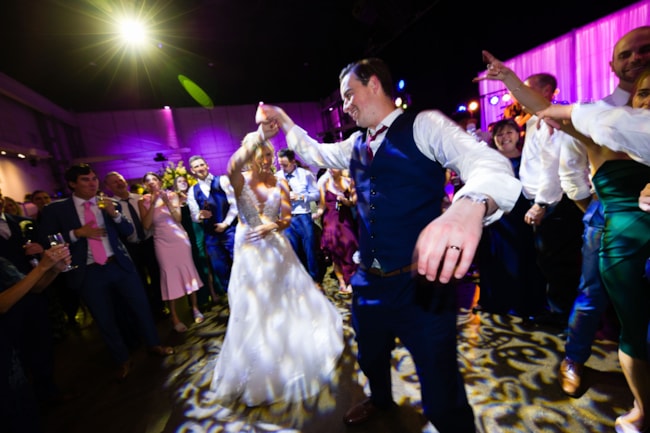 The Endless Summer Band had everyone on the dance floor for the rest of the night, until Carly and Kyle concluded the evening with a private last dance (to "Don't Want to Miss a Thing" by Aerosmith), giving them a chance to revel in the celebration's final moments, before exiting through a corridor of guests holding sparklers - a magical end to a perfect day.
Wedding Ceremony and Reception Details
More Photos from Turner Berry Wedding at Crane Bay
Related Topics: Wedding Receptions, Crane Bay Event Center, Downtown Venues, Venues, Catering