This article first appeared in Sophisticated Living magazine's "Sophisticated Celebrations", written by Annie Mosbaugh Knapp for the November/December 2022 issue.
New Year's Wedding at The Crane Bay Event Center in Indy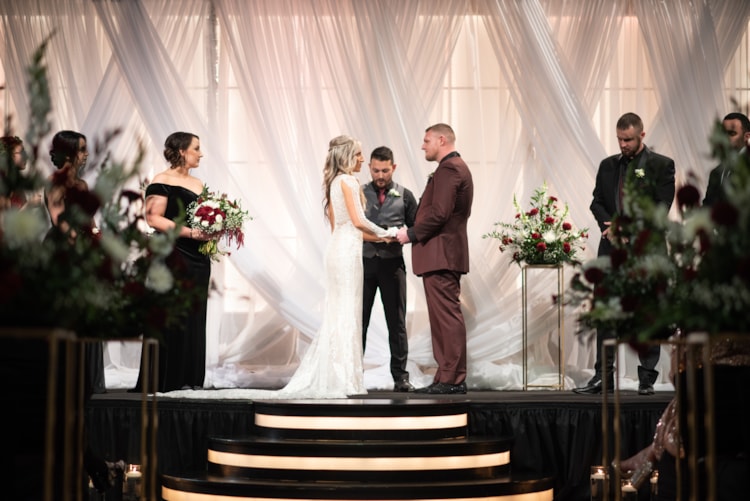 Katie Tunny and Michael Hadley rang in the New Year as newlyweds on December 31, 2021 at The Crane Bay Event Center. Their lives intertwined as young children, due to their families' involvement in the short-track auto racing world. Katie and Michael dated briefly as teenagers in the early 2000's, then reconnected in 2014 and have been together ever since.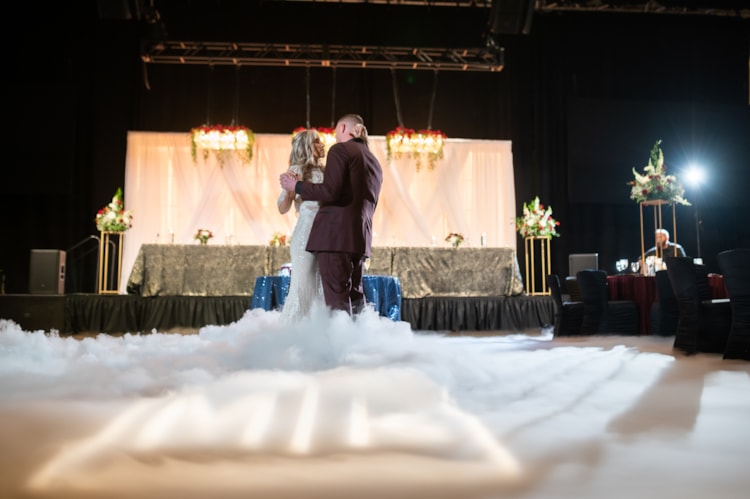 Following a beautiful ceremony surrounded by friends and family, guests enjoyed a cocktail hour full of delicious specialty drinks and butler-passed hors d'oeuvres. A dramatic lift of curtain in the dining room revealed the couple's first dance "on the clouds" with a live singer. Then, as guests found their seats, the couple cut their cake; in a subtle tribute to how the two met, the tiers revealed a checkered pattern upon being sliced. After dinner, guests danced the night away, until a countdown video with a colorful balloon drop rained upon the bride, groom, and their loved ones at the stroke of midnight, ushering in a very happy new year, indeed.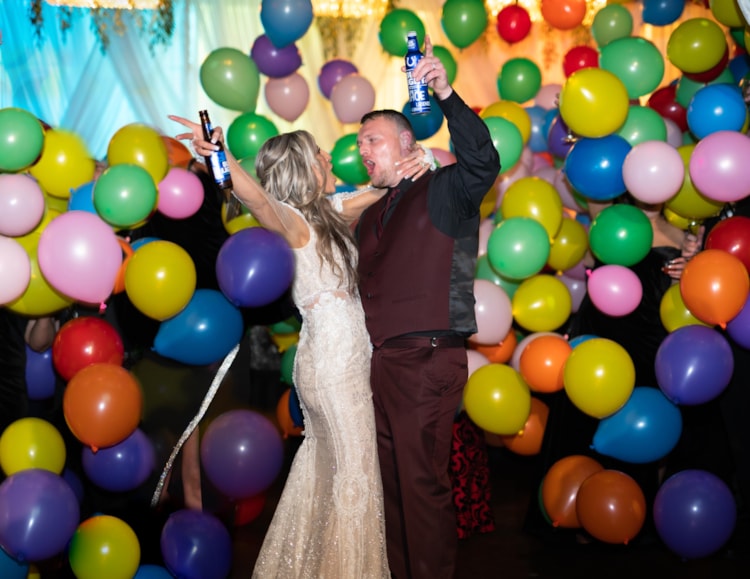 Katie says, "To this day, I receive compliments about our wedding and our venue. My friends said they'd never been to such a seamless wedding, and I recently had a family member tell me that ours was the most fun wedding she had ever attended. All of these compliments are thanks to the staff at The Crane Bay Event Center - we are forever indebted to them."
Wedding Ceremony and Reception Details
Catering: Crystal Signature Events
DJ: Andre Franklin OJ Godzillest
Photographer: Heather Sherrill Photography
Florist: Wanamaker Flower Shop
Bakery: Classic Cakes
Videographer: Morning Light Film Co
Guitarist: Ricky
Decor: Indiana Wedding Decorators (Balloon Drop/Dry Ice)
More Photos from Tunny Hadley Wedding at Crane Bay
Related Topics: Crane Bay Event Center, Venues, Wedding Receptions, Wedding Catering, Wedding Ideas, Event Venues